Professor Lemke | Conferences
CONNECTIVITY AND ITS OTHER
INTERNATIONAL CONFERENCE
University of Freiburg
July 2, 2022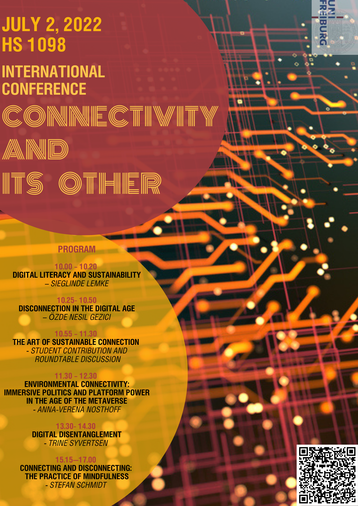 The ubiquity of digital connectivity and the subsequent diminishing of human connection have become truths of our time. This conference starts with the assumption that digital overload takes a toll on people's ability to connect meaningfully with themselves or with others. As many studies have shown hyperconnectivity can lead to self-centered thinking, narrow-mindedness, and a lack of empathy. The attendant mindset can and often does propel contemptuous forms of social interaction.
While the downsides and risks of hyperconnectivity are well known and widely lamented, contemporary media criticism explores moments of "digital disentanglement," i.e. users' deliberate strategies to disconnect. This would constitute a resistance or alternative to hyperconnectivity. The "other" of hyperconnectivity then does not only refer to forms of othering (e.g. cyberhate and populist vitriol), which drive polarization and undermine democratic and civil culture.
In this conference we will examine already existent counter-strategies such as digital minimalism, digital self-defense and the digital detox movement as well as the booming mindfulness movement and the emerging academic field of critical digital literacy that train (mental) skills to curtail the harmful effects of hyperconnectivity.
PLEASE NOTE: The conference has been moved and will now take place in HS 1098, KG I. 
FROM RACIAL POLARIZATION TO BLACK LIBERATION
INTERNATIONAL CONFERENCE
University of Freiburg
February 3, 2021 | via Zoom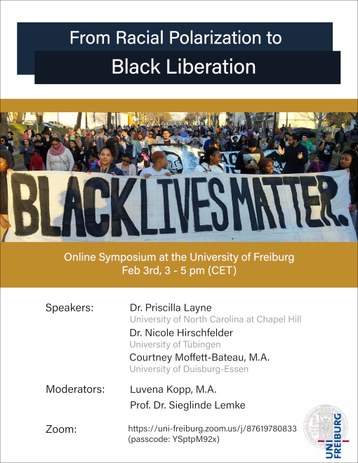 Prof. Dr. Sieglinde Lemke and Luvena Kopp, M.A. were the organizers of a symposium which looked into the current Black movement, its repercussions and its potential to further social transformation. Guest speakers were Priscilla Layne, Ph.D. (University of North Carolina, Chapel Hill), Dr. Nicole Hirschfelder (University of Tübingen), and Courtney Moffett-Bateau, M.A. (University of Bremen).
Black Lives Matter has become the rallying cry of the largest protest movement in U.S. history. As people from various nations and races have joined its protests, the movement has become an indispensable force of social change. This comes at a time of extreme polarization, propelled by increasing political partisanship, wherein rising levels of violence, animosity, and contempt towards members of the other group exacerbate divisions in U.S. society. The recent upsurge of Black Lives Matter, in an era of COVID-19, exposes long-standing racial as well as economic polarization. Expediting the structures of neoliberal capitalism, the pandemic reinforces the precarity of the many while increasing profits for the few. As the pandemic converges with a tradition of racist police brutality, Black lives are the main victims of a dual crisis.
The resurgence of the Black Lives Matter movement links the struggle for Black liberation to a broader struggle for systemic change. "Black liberation," Keeanga-Yamahtta Taylor reminds us in From #BlackLivesMatter to Black Liberation, "is bound up with the project of human liberation and social transformation."
PRECARIOUS REPRESENTATIONS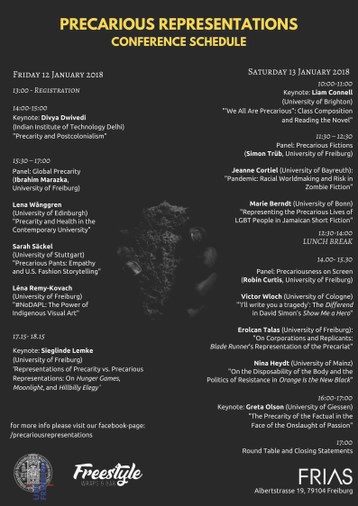 CONFERENCE
University of Freiburg (FRIAS)
January 12 – 13, 2018

SCREENING CLASS: PRECARIOUS VISIONS AND AMERICAN STUDIES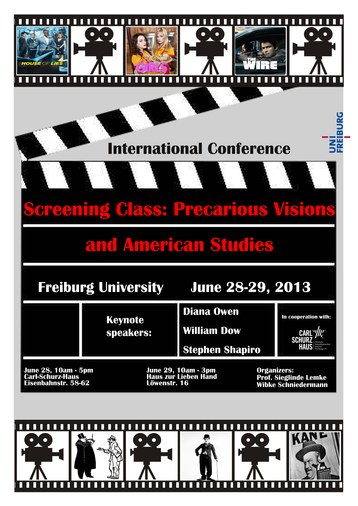 INTERNATIONAL CONFERENCE
University of Freiburg & Carl-Schurz-Haus
June 28 – 29, 2013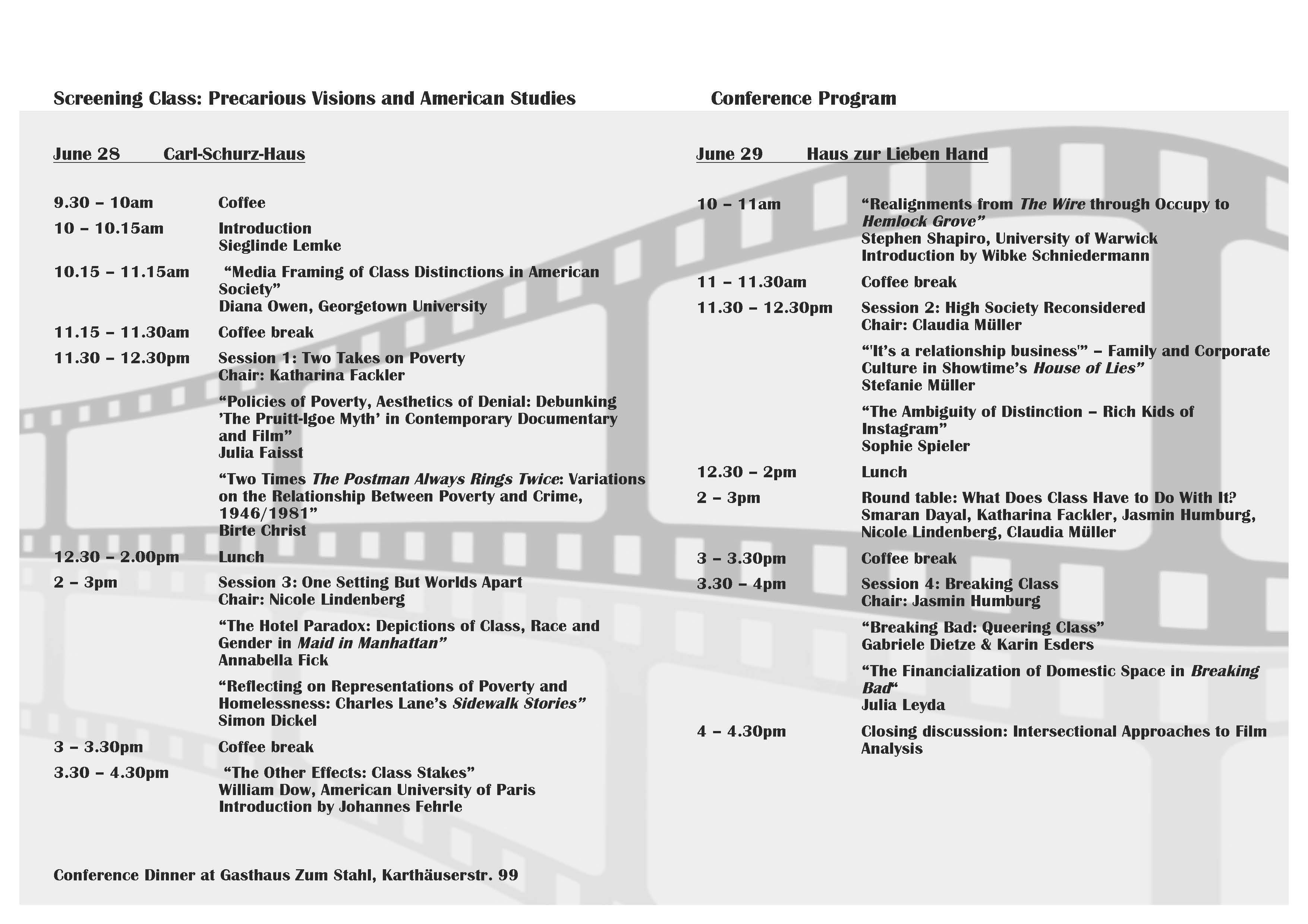 TOO BIG TO IGNORE: NARRATIVES OF INEQUALITY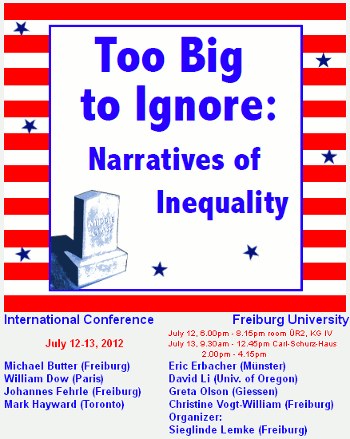 INTERNATIONAL CONFERENCE
University of Freiburg & Carl-Schurz-Haus
July 12 – 13, 2012
Five years into the crisis, and three years after taxpayer bailout, economicinequality in the U.S. is at an unprecedented high. The increase in national wealthover the past 25 years has, as many commentators have pointed out, almostexclusively benefited the top 1% of the American population. The society that haslong considered itself as classless, composed of a large middle class, faces theshrinking of precisely its defining group. What are the effects on its culturalidentity? How does economic inequality feature in the arts?
This conference takes the emerging critical discourse on class disparity andsocio-economic exclusion as its starting point to discuss questions ofrepresentation and the representability of economic injustice in different media:feature films, (graphic) novels, and documentaries.
PROGRAM
---
Thursday, July 12
6.00 – 6.15 pm
Introduction by Sieglinde Lemke
6.15 – 8.15 pm
Mark Hayward
In the Aftermath of the Crisis: Race and Politics of Pop Sociology in Contemporary US Film

Friday, July 13
9.30 – 10.00 am
Eric Erbacher
Intersections of Class and Ethnicity: Narrative Reconstructions of Los Angeles
10.00 – 10.30 am
Christine Vogt-William
Applying Intersectionality Theory to Fiction on Incest: Bastard Out of Carolina and Push
10.30 – 11.30 am
Forum & Coffee break
11.30 – 12.00 pm
Johannes Fehrle
Representing Poverty in Comic Books
12.00 – 12.30 pm
Miriam Nandi
Inequality in Postcolonial Fiction
12.30 – 2.30 pm
Forum & Lunch break
2.30 – 3.00 pm
Greta Olson
The Class Trope and the 2012 Presidential Election
3.00 – 3.30 pm
David Li
Between Liberalism & Neoliberalism: The Phantom of Poverty in Theories of the 'Post'!
3.30 – 4.00 pm
Forum
4.00 – 4.30 pm
Michael Butter & Sieglinde Lemke
Round table & closing discussion
ARM, NICHT SEXY:
REPRÄSENTATIONEN VON ARMUT IN DER AMERIKANISCHEN GEGENWARTSKULTUR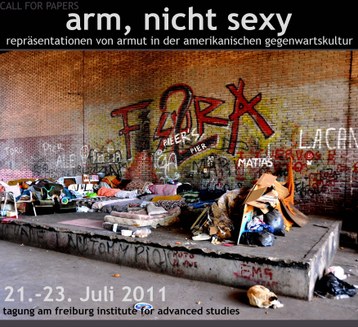 KONFERENZ & FOTOAUSSTELLUNG
June 21 – 23, 2011
University of Freiburg (FRIAS)
Den legendären Ausspruch des Berliner Bürgermeisters, dass seine Stadt arm, aber sexy sei, nimmt diese Konferenz zum Anlass über die fortschreitende soziale Verelendung in Deutschland und den USA nachzudenken. In den letzten fünf Jahren ist die Kluft zwischen arm und reich noch größer geworden. Mittlerweile lebt ein Drittel der amerikanischen Bevölkerung in prekären Verhältnissen. Während sich die Sozialwissenschaften diesem Problem bereits seit längerem widmen, haben die Kulturwissenschaften das Phänomen bis vor kurzem weitgehend ignoriert. In der Amerikanistik scheint diese Tendenz besonders ausgeprägt zu sein. Race und Gender haben seit Jahrzehnten Hochkonjunktur, Class dagegen war bis vor kurzem eine vernachlässigte, wenn nicht sogar verpönte Analysekategor
Ziel der Tagung ist es, dem emergenten Diskurs um Class weitere Impulse zu geben und die deutschen Amerikanistinnen und Amerikanisten, die sich für solche Fragen interessieren, stärker als bisher miteinander in Kontakt zu bringen. Der Fokus der Diskussion soll auf Repräsentationen von Armut aus den letzten zwanzig Jahren liegen. Wir sind besonders interessiert an exemplarischen Analysen zur Gegenwartsliteratur (z.B. zur urban novel), zum Film (z. B. Precious, The Soloist), zum Fernsehen (z.B. The Wire, South Park) oder zur Dokumentar- und Kunstfotografie. Zudem laden wir Forscherinnen und Forscher aus den Sozialwissenschaften, die an einem Dialog mit den Kulturwissenschaften interessiert sind, ein, ihre Herangehensweise an die relevanten Phänomene vorzustellen. Wir stellen uns der Herausforderung, Konzepte wie Armut und Class, die keine reinen Identitätskategorien sind, sich aber auch nicht in "harten" sozioökonomischen Fakten erschöpfen, intersektional mit anderen Kategorien wie Race und Gender zu verknüpfen.
SCHEDULE OF EVENTS (PDF)
---
THE NEW POVERTY STUDIES: CUTTING EDGE, SEXY, & PRECARIOUS
Introduction by Sieglinde Lemke
Michael Butter, Birte Christ & Carsten Schinko
The Culturalization of Class: A Panel Discussion

BORDERS & CLASS-IFICATIONS
Rüdiger Heinze
Post-ethnic, Post-poor? Poverty & Cultural Difference in Contemporary US American "Multicultural" Literature
Heike Raphael-Hernandez
When Immigrants are Given a Voice: Immigration & Poverty in Contemporary US Film

CLASSED SPACE IN CONTEMPORARY LITERATURE
Susanna Brogi
"Tief ist noch über mir." The Nexus of Poverty, Spatiality, & Emotions in Contemporary American & German Novels by Colum McCann, Helmut Krausser, & Marcel Feige
Kristina Graaff
"Storing a Surplus Population": The 'Ghetto-Prison-Symbiosis' & its Significance for the African American Popular Genre of Street Literature

THE RAW & THE REAL
Tanja Aho
Slumming 2.0? Representations of Class & Poverty in Undercover Boss
Alice Stiefermann
Representations of Poverty in Adrian Nicole LeBlanc's Random Family: Love, Drugs, Trouble, and Coming of Age in the Bronx

MINIMALISM IN LITERATURE & LIFE
Günter Leypoldt
Dignified Tackiness: Blue-Collar Poverty in the Work of Raymond Carver
Victoria Tafferner
No Pot for the Chicken: Redefining Lack in the 21st Century

PORTRAITS OF PEOPLE LIVING ON THE EDGE
Tom Stone (Documentary Photographer) in Discussion

CLASS ON CELLULOID
Horst Tonn
Strange Encounters: Class Conflict in American Documentary Film
Claudia Müller
"Ugly black grease to be wipe away." The Image of the 'Fat Poor' in Push & Precious
Aviva Köberlin
Taking Out the Trash: The Depiction of White Trash in Popular Film

READING HOMELESSNESS
Simon Dickel & Michael Bucher
Poor & Sexy: Depictions of Homelessness in Samuel R. Delany's Bread and Wine & The Mad Man
Wibke Schniedermann
The Cartography of Darkness: Homelessness in American Novels of the Nineties
TRANSFORMATIONS: THEORIZING RACE & CLASS IN THE 21st CENTURY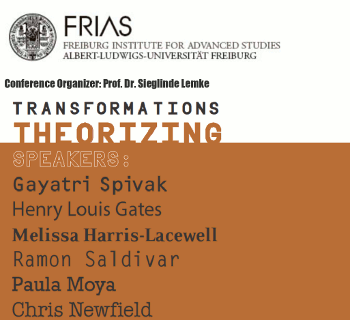 INTERNATIONAL CONFERENCE
June 17 – 19, 2010
University of Freiburg (FRIAS)