Obituaries
Prof. Dr. Ursula Schaefer | 19 August 1947 – 07 June 2022
---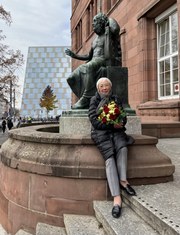 The English Department mourns the loss of Prof. Dr. Ursula Schaefer, who passed away in Freiburg on 7 June 2022.
Beginning in 1966, Ursula Schaefer studied English, German and Political Science in Freiburg and after completing her Staatsexamen (1971), she spent more than two decades as a researcher and lecturer at the English Department. In 1976 she completed her Ph.D. with a dissertation on medieval literature (Höfisch-ritterliche Dichtung und sozialhistorische Realität: Literatursoziologische Studien zum Verhältnis von Adelsstruktur, Ritterideal und Dichtung bei Geoffrey Chaucer, published 1977). Her teaching, and increasingly her research, subsequently expanded in focus to cover broad topics in diachronic and synchronic English linguistics. Generations of students respected her incorruptible eye for academic quality, profited from her rare didactic abilities, and treasured her for her attentiveness to their needs. Despite her enormous teaching load, which never seemed to burden her, she regularly published during this time, with works including an introduction to Middle English that she co-wrote with Lilo Moessner (Proseminar Mittelenglisch: Lehrbuch mit Texten, Grammatik und Übungen, 1974, 2nd edition 1987). In 1989 she completed her Habilitation with the postdoctoral dissertation Vokalität: Altenglische Dichtung zwischen Mündlichkeit und Schriftlichkeit (published 2002). Her primary mentors in Freiburg were Willi Erzgräber and Herbert Pilch, whose impetuses she took up and independently advanced. A further key influence was the Sonderforschungsbereich (SFB) 321, "Übergänge und Spannungsfelder zwischen Mündlichkeit und Schriftlichkeit", the research group in which she developed her Habilitation. The interdisciplinary openness and cooperative culture of this network were well-suited to her temperament.
In 1993 she accepted a professorship for Medieval English Literature at the Humboldt University of Berlin. In 1999 she moved to a professorship for English Linguistics at the Dresden University of Technology (TU Dresden). During this period, she solidified her international reputation as a leading scholar in Medieval English studies. Furthermore, in countless publications, she demonstrated how modern research paradigms in language ideologies can be made productive for medieval studies, and conversely, how modern research in these areas can profit from increased engagement with the Middle Ages. At both universities, she also held high-ranking positions in university administration. After her retirement in 2013, she returned to Freiburg, where she rekindled old bonds and again became an active participant in departmental and university life. Her course offerings – in the language, culture, and literature of the Old English period, as well as in the field of more recent language ideologies – were always popular among students, a welcome addition to the Department's course program. In 2017, in recognition of her scholarly achievements and her dedicated engagement for our department and our university, the rector appointed her as an honorary professor. In the 2021 Summer term, some of us were able join her in celebrating her hundredth semester teaching at the university level.
We will all remember her fondly as an internationally recognized scholar and a dedicated, warm-hearted colleague.
Norbert Federer | 1941 – 2021
---
We mourn the loss of Norbert Federer.
We were saddened to learn of the death of Norbert Federer.
For many years, Norbert was a facility manager who carried out his duties with absolute dependability and remarkable craftsmanship. However, he was also much more: as the guiding spirit of KG IV, his openness, affability, and charm were a constant source of sunlight during each workday. He was also a sought-after conversation partner and a welcome guest at social gatherings of English Department faculty and staff. Our sympathy goes out to his friends and family – and we too will miss him.
Dr. Gert Fehlner (Administration); Prof. Dr. Wolfgang Hochbruck; Prof. Dr. Bernd Kortmann; Prof. Dr. Christian Mair; Prof. Dr. Ursula Schaefer
Prof. Dr. Hildegard L.C. Tristram | 1941 – 2020
---
The English Department mourns the loss of Honorary Professor Hildegard Tristram, who passed away on 29 October 2020 in Freiburg after a prolonged illness.
Hildegard Tristram first studied English and Romance languages and literature in Münster, then in Freiburg, where her teacher Herbert Pilch additionally introduced her to the study of Celtic languages and literatures even before her Ph.D. in 1970. From 1969 to 1993 she researched and taught in English linguistics, medieval studies, and Celtic studies at the English Department in Freiburg. In 1993, she accepted a professorship for English Historical Linguistics and Medieval English Literature at the University of Potsdam, which she held until 2006. In Potsdam, Prof. Tristram increasingly devoted herself to the study of Celtic-influenced varieties of English as well as modern Irish, which she also introduced generations of Freiburg students to as a regular guest lecturer. After her 2006 appointment as an Honorary Professor of the Philological Faculty at the University of Freiburg, Prof. Tristram became even more involved in the English Department. In 2008, she was awarded an honorary doctorate by the National University of Ireland (NUI) in Dublin for her outstanding contributions to the study of Irish language and literature as well as her successful efforts to strengthen academic exchange between Ireland and Germany.
For decades, Hildegard Tristram helped shape the research and teaching of Freiburg's English Department. She will be fondly remembered by those who knew her for her drive, her collegiality, and her delight in scholarly conversation.
Prof. Dr. Dr. h.c. mult. Herbert Pilch | 1927 – 2018
---

The English Department Freiburg mourns the loss of its renowned and long-standing member, Prof. Dr. Dr. h.c. mult. Herbert Pilch, who passed away on 19 April 2018 at the age of 91.
Herbert Pilch belonged to the pioneering generation of post-World War II English scholars who, on the one hand, preserved the heritage of the philological tradition for the present, but on the other hand, also overcame the isolation imposed by National Socialism and the war, re-establishing contact with international developments in modern linguistics.
Born in East Prussia in 1927, Herbert Pilch began teacher training in English, French, and Russian in Kiel after the end of the war. He completed his Ph.D. in Medieval English Literature and Historical Linguistics in Kiel and earned his venia legendi (Habilitation) in 1957. At a time when regular scholarly stays abroad were by no means a matter of course, he was inspired by encounters with distinguished international colleagues like Bernard Bloch and André Martinet to develop an independent approach to phonology and syntax which was indebted to the international structuralist tradition. After associate professorships in Cologne and Frankfurt, he was appointed to a professorship in Freiburg in 1961. He retired in 1995 but remained connected and committed to the Department as long as his health permitted.
With his striking personality as a researcher and teacher, Herbert Pilch helped shape the English Department at the University of Freiburg for decades. He was impressively multilingual, both in terms of practical linguistic mastery and with respect to scholarly analysis. He developed an international reputation not only in English studies, through his research on the English language in all its historical manifestations, but also in phonetics and Celtic studies. In all these fields of study, he encouraged and inspired generations of students, many of whom went on to become professors themselves. As a creative source of ideas, he was not averse to productive academic controversy: always on the scholarly cutting edge, but not necessarily part of the mainstream.
His achievements in university politics included the establishment of a long-term partnership with the University of Iaşi in Romania, a relationship which he was able to maintain even under politically complex circumstances. His work was recognized, amongst other honors, by the bestowal of two honorary doctorates (University of St Andrews, Scotland, 1984, and University of Iaşi, 1990) as well as the Bundesverdienstkreuz (Federal Cross of Merit) in 2008.
Prof. Dr. Paul K. Goetsch | 1934 – 2018
---

The English Department Freiburg mourns the loss of its renowned and long-standing member, Prof. Dr. Paul K. Goetsch, who passed away on 7 April 2018 after a prolonged illness.


Born 1934 in Marburg, Paul Goetsch was one of the leading English scholars of the postwar generation. His dissertation was the first German doctoral thesis in Canadian studies (1960, on Hugh MacLennan), and at the young age of 32 he earned his venia legendi (Habilitation) under Horst Oppel. After four years as a professor in Cologne, the Albert Ludwig University was able to recruit him in 1971 for its then-developing English Department, which he tirelessly worked to strengthen until his retirement in 2002. Together with his friend and colleague Willi Erzgräber, who passed away in 2001, Paul Goetsch established the Freiburg English Department's excellent reputation amongst German universities.
Paul Goetsch published seminal texts in many different fields of research:
on the novel: Die Romankonzeption in England, 1880-1910 (1967); Dickens (1986), Hardys Wessex-Romane (1994)
on drama: Bauformen des modernen englischen und amerikanischen Dramas (1977, 1992)
on the short story: Studien und Materialien zur Short Story (1971)
on narratological questions: Lesen und Schreiben im 17. und 18. Jahrhundert (1994)
Active until the end, Goetsch published several more books even after his retirement, including Machtphantasien in englischsprachigen Faust-Dichtungen: Funktionsgeschichtliche Studien (2008); Motifs and Themes in modern British and American Poetry (2013); Monsters in English Literature (2002)
Together with the many edited volumes he published, Paul Goetsch wrote 28 books and around 200 scholarly articles. He was also centrally involved in two major Collaborative Research Centers at the University of Freiburg, serving as speaker and vice speaker of CRCs 321, "Orality and Written Language", and 541, "Identities and Alterities". Particularly his research on political rhetoric in the United States, part of CRC 321, led to the publication of essays and edited volumes that remain relevant to this day.
Paul Goetsch was an exceptionally popular instructor; his lectures had cult status at a time when there were neither ECTS points nor any other advantage to be gained from attendance, other than the opportunity to listen and to learn something from the enormous store of knowledge of an inspiring lecturer. Generations of Lehramt and master's students were mentored by Prof. Goetsch, whose feedback and critiques were as thorough as they were fair. His support for young scholars was also legendary: He supervised at least nine post-doctoral theses and more than sixty dissertations. His students founded their own 'school', with alumni spread across the world who have helped ensure that Paul Goetsch is one of the few Anglisten of his generation to be held in high esteem in English-speaking countries.
In him, the English Department has lost an internationally recognized researcher, inspiring teacher, and highly respected colleague.
Prof. Dr. Richard Matthews | 1946 – 2018
---
Dear colleagues,
It is with great sadness that we announce the untimely death, after a short but fatal disease, of our colleague and friend Prof. Dr. Richard Matthews, who passed away on 25 January 2018.
Richard joined the English Department as a lector in 1970 and retired in 2011. During this time he was one of those "Felsen in der Brandung" for whom teaching English to our students was not a temporary experience for a few years, but a life-long commitment and who – together with a number of colleagues in a similar position – made a crucial contribution to ensuring continuity and quality in this important area of our work. In addition, Richard never gave up his interest in linguistics, particularly the syntax and semantics of tense, aspect and modality; upon completion of his habilitation, he made important contributions to this field.
We owe Richard gratitude for decades of service and shall remember him as a committed teacher, a hard-working scholar, and an amiable colleague, always there when needed and unobtrusively competent in everything he did.
Our thoughts in this difficult time go out to his partner, Uli.
In Trauer, im Namen des ganzen Seminars,
Gert Fehlner


Remembering / In memoriam Ernest Callenbach | 1929 – 2012
---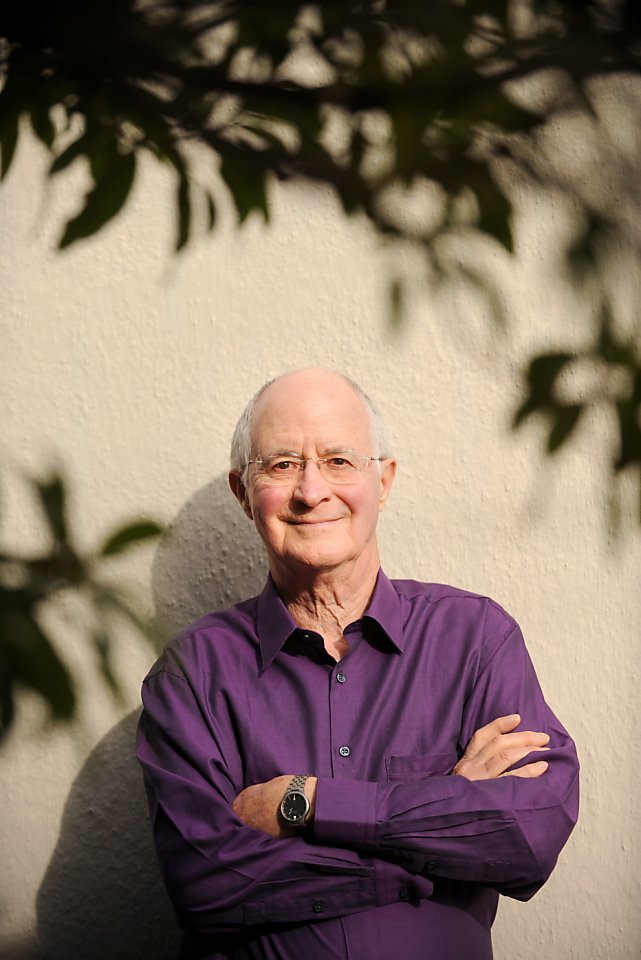 The Los Angeles Times considered Ernest Callenbach to be the most recent in a long line of great names such as Wells, Verne, Huxley and Orwell after he became more widely know in the 1970s, first in the US and later in Europe and Japan, with his literary utopia Ecotopia.
In his 1975 novel, a bestseller which was widely read – sometimes as pirated copies – and one which put him at the forefront of the global environmentalist movement, Callenbach envisages a society that is at once ecologically sound, socially just and politically sustainable as well as one that is still open to new technologies.
In the decades that followed, Callenbach's vision of an ecological utopia became one of the cornerstones for political discussions within the environmental movement and began receiving increasing attention from literary critics. It also became part of the curriculum in schools and universities. This was especially true in Germany. So, it is no wonder that during his frequent visits to Germany, which he held in high esteem, he was warmly, sincerely and happily welcomed not just in lectures as a guest speaker and in people's homes as a friend but by all kinds of politicians from the local level right up to Germany's national parliament as well.
Ernest Callenbach maintained a special relationship with the University of Freiburg and whenever he was on a lecture tour through Germany, he always made sure that Freiburg was on the itinerary. And in spite of other, sometimes demanding, commitments he always made time to hold lectures and take part in discussions with friends, colleagues and students in Freiburg. Following the proposal of the English Department, the Faculty of Philology awarded Mr. Callenbach an honorary doctorate in 2009 as sign of the University of Freiburg's appreciation and its special bond.
After studying at the University of Chicago and the Sorbonne in Paris, Ernest Callenbach worked as a film critic and was a founding editor of the Film Quarterly, one of the best-known film magazines worldwide. Film Quarterly is published by the University of California in Berkeley, where "Chick" – as he was known to his friends – had lived since the late 1950s. He was also the editor of various other prestigious journals published by the University of California Press.
Callenbach became a culturally critical writer during the politically and socially eventful 1970s when he began responding to the increasingly problematical ecological and social developments in the US and other industrialized countries. The literary utopias, Ecotopia and Ecotopia Emerging, were not the only products of this response. He also wrote various works of non-fiction, the titles of which indicate a broad spectrum of social and political interest: The Art of Friendship (with Christine Leefeldt), Living Poor with Style, A Citizen Legislature and Bring Back the Buffalo.
In the recent past, Callenbach, who had remained active right up into his eighties (The New York Times described him as an "eerily fit man" in 2008), focused on criticism of global finance capitalism and continued to promote new forms of post-capitalist, sustainable economic activity and ways of living in his essays and lectures.
Even as Ernest Callenbach became ever more well-known, he never lost his modest, sunny and undogmatic disposition. And he was always willing to listen to anyone (or even invited them into his home in Berkeley) who wanted to talk about ideas that might lead to a better future.
Ernest "Chick" Callenbach died of cancer on April 16, 2012. We would like to extend our best wishes to him as he set out on what he reffered to as his "next journey."
We would also like to offer our most heartfelt condolences to his family and most especially to his wife and long-time companion in all areas of his life – Christine Leefeldt.
Gert Fehlner und Wolfgang Hochbruck (Freiburg); Gerd Hurm (Trier)