M.A. in English Language and Linguistics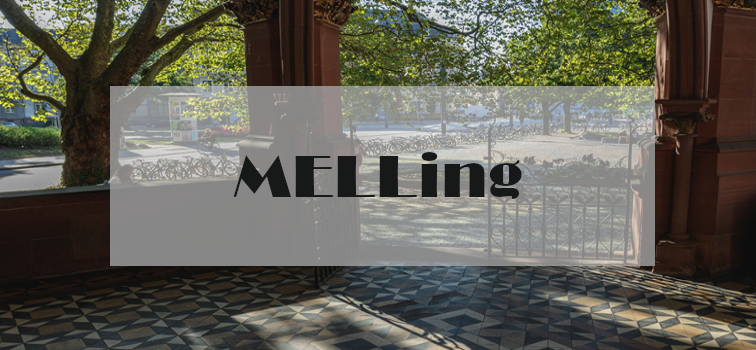 Based on the state of the art in contemporary linguistic theory, the Master of Arts in English Language and Linguistics – MELLing – focuses on the structure, use and variability of the English language. The program emphasizes present-day English but includes the essential stages in the historical development of the language. The use of digitized language corpora for linguistic description plays a major role, reflecting Freiburg's position as a leading international centre in corpus-linguistic research.


Program Content & Structure
Program Content
In the consecutive, research-oriented master's program, students develop an understanding of the structure, usage, and variability of the English language in its worldwide manifestations, as reflected by current research in general linguistics. The program's focus is on modern English(es); important details concerning English linguistic history are adequately covered. Furthermore, students can pursue their own individual interests, choosing between modules in Discourse and Communication, Psycholinguistics and Language Acquisition, as well as Corpus Linguistics and Language Technology.
Through participation in conferences and workshops alongside work on research projects, students are introduced to the standards of academic research and learn to use common methods of quantitative and qualitative linguistics in the context of empirical research. Especially successful students may see the master's program as an opportunity to begin an academic career; in other cases, the program prepares its students for a wide range of professions requiring global perspectives paired with linguistic competence, intercultural sensibility, and close attention to language, texts, and information (e.g. corporate communication, editorial work, public relations, etc).
Modules and Courses
This M.A. program is made up of modules, each focusing on a specific topic. The modules can consist of a variety of course types, including seminars, lectures and tutorials. Some courses are required and others are elective. The program is divided into the following modules:
The Structure of Modern English
Present-Day English: Regional, Social and Stylistic Variability
Linguistic Change and the History of the English Language
Transdisciplinary Perspectives (elective)

Discourse and Communication

Psycholinguistics: Language Acquisition and Bilingualism
Corpus Linguistics and Language Technology

English Language Proficiency
Research Methods and Practical Experience
Program Requirements and Sequence
Application – Admission – Enrollment
Language and Acceptance Requirements
We welcome applications from candidates with a strong undergraduate degree (BA or equivalent) with a focus on English and American studies or linguistics. A working knowledge of German is recommended for success in Freiburg but not required for the application.
Furthermore, the Master of Arts in English Language and Linguistics requires an excellent command of the English language: you must have a level equivalent to CEFR C1, certified by TOEFL (PBT 600, CBT 250, iBT 100), IELTS (7.5–8.0), or Cambridge (CAE/CPE). Please note the information concerning language requirements on the main M.A. page, and be sure to clear up any questions you may have with the program coordinator, Dr. Honkanen.
Application
The application process takes place online via the University of Freiburg's Campus Management System HISinOne. The yearly application deadline is 30 June for applicants from non-EU/EEA countries and 15 July for applicants from EU/EEA countries.
We encourage all applicants to complete their applications two weeks before the final deadline in order to provide a buffer in case of unexpected problems. Once the application deadline has passed, we're legally unable to accept new or updated application information.
We also happily accept applications submitted before the deadline, and recommend that all applicants who may need to apply for a student visa to take advantage of this opportunity.
Application: step by step
Application Guidelines (MELLing)
If you have any questions please send an email to mirka.honkanen@anglistik.uni-freiburg.de.
Required Documents
Excerpted from the acceptance guidelines (authoritative text in German here):
§ 3 Application
(1) In order for your application to be accepted, the following documents must be submitted:
A certified copy of your

undergraduate diploma

along with a certified translation into English or German if the original is in any other language than German, English, or French (if your diploma has not been issued at the time of application, a statement about your anticipated date of graduation from your department will be acceptable; see (2) below)

A certified copy of your 

transcript of records 

outlining the contents of your undergraduate degree, with the same requirements for a certified translation as for the diploma (if you have not yet completed your studies, the most recent version of your transcript of records 

will be acceptable at the time of application. The full document will need to be provided upon enrollment)
Proof of English proficiency (see "Language and Acceptance Requirements" above)(exceptions: native speakers, applicants with a degree in English Studies from a German university. Please get in touch with us if you are unsure about whether you need to provide official proof of English proficiency)

Two letters of recommendation from academic teaching staff (in German or English) (Since our application system is now fully online, we ask applicants to simply indicate two references on their CV)

A statement of intent (two to three pages, in English), in which the applicant states his or her reasons for seeking acceptance to the MA program

A 2,500 word essay written in English on the subject of the applicant's choice, which relates to one of the English Language and Linguistics modules (The Structure of Modern English; Present-Day English: Regional, Social and Stylistic Variability; Language Change and the History of English; Discourse and Communication; Psycholinguistics: Language Acquisition and Bilingualism; Corpus Linguistics and Language Technology; Theories and Schools of Thought in English Linguistics)

A chronological CV (résumé) (two to three pages in length, written in English, including contact details for two academic references)
(2) If the applicant is not able to produce certified copies of his or her completed diploma by the application deadline, but has at that time finished his or her current course of study, the applicant may hand in a statement from the university, which, in addition to the final grade(s), states that the course of study has been completed. In this case, the officially certified copies must be submitted to the University of Freiburg as soon as they are available, and no later than at the time of enrollment.
PLEASE NOTE THAT YOUR APPLICATION WILL ONLY BE CONSIDERED IF ALL THE DOCUMENTS LISTED ABOVE HAVE BEEN RECEIVED.
Enrollment
General information concerning enrollment can be found on the Student Service Center's website.
Costs
Semester and student activity fees: €161 per semester
€1.500 tuition for non-EU/EEA applicants (see http://www.studium.uni-freiburg.de/en/studentservices/study-fees?set_language=en for exceptions)
Cost of living: estimated between €650 and €1,000 per month (unfortunately, the cost of rent in Freiburg is rather high; consider student accommodation, more information at https://www.housing.uni-freiburg.de/international-students)
There are no stipends available from the university for MA students as of yet
Contact
The coordinator of the MELLing program will be happy to advise you concerning the details of the application and admissions process as well as concerning the program in general.
Program Director
Prof. Dr. Christian Mair
christian.mair@anglistik.uni-freiburg.de
☎ +49 761 203-3336
MELLing Coordinator
Dr. Mirka Honkanen she/her
mirka.honkanen@anglistik.uni-freiburg.de
☎ +49 761 203-3312
R 4016 | KG IV
Mailing Address
M.A. in English Language and Linguistics
University of Freiburg
English Department | Chair of Prof. Mair
Rempartstr. 15
79098 Freiburg
Germany