M.A. in English Literatures and Literary Theory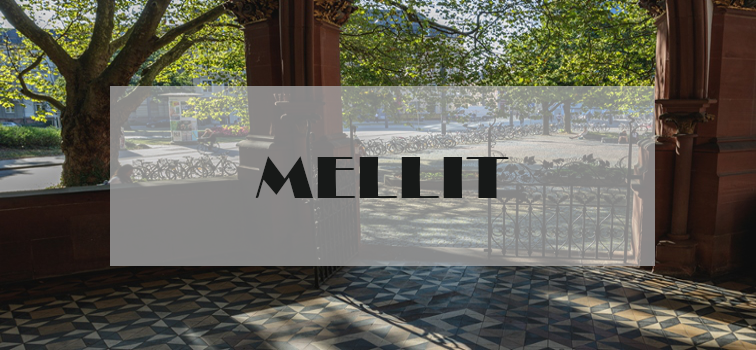 If you love literature, this is the ideal course of study for you. Besides reading a large number of exciting novels, short stories, plays, poems, essays and letters, you will have the chance to watch and analyze a variety of films, and even see some wonderful performances on stage.
The University of Freiburg's Master of Arts in English Literatures and Literary Theory – MELLIT – is the definitive M.A. program that prepares you for a Ph.D. in British, American or postcolonial literature, or many other career paths of your choice. It exposes students to a wide range of British and American texts of all genres and from all periods. In order to ensure complete coverage of the full range of literature in the English language, early British literature (pre-1800) receives special attention.
Besides immersion in literatures from different countries, centuries and genres, the program also focuses on introducing students to different literary theories and their application in literary research. An understanding of the various theoretical approaches is necessary when preparing to write a major research project like an M.A. or Ph.D. thesis. The professors in the English Department specialize in areas as diverse as cultural studies, postcolonial literary theory, narratology, feminism, ethnic studies, law and literature, and ethical approaches to literature.
Although we offer courses in all genres and periods, special emphasis is placed on fiction and drama, the Renaissance, 18th and 19th century novels, American and British plays in the 18th and 19th centuries, modernist and postmodernist writing, and the short story as a genre.
Moreover, this master's program has a linguistic component. Literature is, after all, written language, and in order to effectively study and analyze that language, one needs to have a good grasp of linguistic concepts. In addition, theoretical models and approaches, particularly those based on structuralism and poststructuralism, frequently use concepts and terms derived from linguistics – so here too, a good basic knowledge of the field comes in handy.
Students graduating from this master's program have a number of career options. Besides continuing with an academic career and doing a Ph.D., they are qualified to engage in all kinds of work in the cultural and creative industries (conference and exhibition planning, journalism and broadcasting, editing and publishing, theatrical performance or production, etc.). This program will foster your creativity and love of the arts, ensuring you'll have no problem finding a niche for your interests out in the world.
Program Content & Structure
Modules and Courses
This M.A. program is made up of modules, each focusing on a specific topic. The modules can consist of a variety of course types, including seminars, lectures and tutorials. Some courses are required and others are elective. The program is divided into the following modules:
Theories and Methods of Literary and Cultural Studies
English Literatures
Core Texts of Literary Studies
Research Methods and Teaching Experience
Program Requirements and Sequence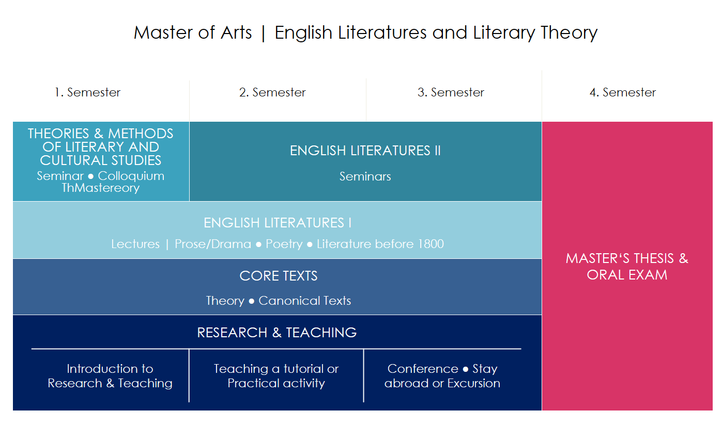 Application – Admission – Enrollment
Language and Acceptance Requirements
We welcome applications from candidates with an undergraduate degree (BA or equivalent) in the humanities with a high GPA. A working knowledge of German is recommended for success in Freiburg but not required for the application.
Furthermore, the Master of Arts in English Literatures and Literary Theory requires an excellent command of the English language: you must have a level equivalent to CEFR C1, certified by TOEFL (PBT 600, CBT 250, iBT 100), IELTS (7.5–8.0), or Cambridge (CAE/CPE). Please note the information concerning language requirements on the 
main M.A. page
, and be sure to clear up any questions you may have with the program coordinator.
Application
The application process takes place online via the University of Freiburg's Campus Management System HISinOne. Applications are accepted each year from 1 April through 15 June.
If you have any questions please send an email to roman.barton@anglistik.uni-freiburg.de
Required Documents
Excerpted from the acceptance guidelines (authoritative text in German here):
§ 4 Application
(1) In order for your application to be accepted, the following documents must be submitted:
A completed online application form

A certified copy of your undergraduate diploma

A certified copy of your transcript of records outlining the contents of your undergraduate degree (documents in languages other than English, German, or French need to be translated and officially notarized by a certified translator into German or English)

Proof of successful completion of an English language examination (if necessary)

Two letters of recommendation from academic teaching staff (in German or English)

A statement of intent (two to three pages, in English), in which the applicant states his or her reasons for seeking acceptance to the MA program

A 2,500 word essay written in English on the subject of the applicant's choice, which

relates to one of the English Literatures and Literary Theory modules (Theories and Methods of Literary and Cultural Studies; English Literatures; Research Methods and Teaching Experience). It can be an excerpt from a finished research project (e.g. a term

paper, a bachelor's thesis, a publication, or a conference paper)

A chronological CV (résumé) (two to three pages in length, written in English)
(2) If the applicant is not able to produce certified copies of his or her completed diploma by the application deadline, but has at that time finished his or her current course of study, the applicant may hand in a statement from the university, which, in addition to the final grade(s), states that the course of study has been completed. In this case, the officially certified copies must be submitted to the University of Freiburg no later than June 30.
PLEASE NOTE THAT YOUR APPLICATION WILL ONLY BE CONSIDERED IF ALL THE DOCUMENTS LISTED ABOVE HAVE BEEN RECEIVED.
Enrollment
General information concerning enrollment can be found on the Student Service Center's website.
Costs
Semester and student activity fees: €161 per semester
€1.500 tuition for non-EU/EEA applicants (see http://www.studium.uni-freiburg.de/en/studentservices/study-fees?set_language=en for exceptions)
Cost of living: estimated between €650 and €1,000 per month (unfortunately, the cost of rent in Freiburg is rather high; consider student accommodation, more information at https://www.housing.uni-freiburg.de/international-students)
There are no stipends available from the university for MA students as of yet
Contact
The coordinator of the MELLIT program will be happy to advise you concerning the details of the application and admissions process as well as concerning the program in general.
Prof. Dr. Monika Fludernik
sekretariat.fludernik@anglistik.uni-freiburg.de
☎ +49 761 203-3310
MELLIT Coordinator
Dr. Roman Barton
roman.barton@anglistik.uni-freiburg.de
☎ +49 761 203-3314
R 4006 | KG IV
Mailing Address
M.A. in English Literatures and Literary Theory
University of Freiburg
English Department | Chair of Prof. Fludernik
Rempartstr. 15
79098 Freiburg
Germany